Do you need to improve quality and find more bugs with fewer resources? By far the best way to achieve this is with peer reviews. Peer reviews allow you to bring the experience and skills of your QA team into the product development life-cycle right from the start.
This means you decrease rework by preventing defects before code is even written.
Remove defects before software is released to QA, ultimately; saving time, effort and money by preventing problems well before they cascade down the chain.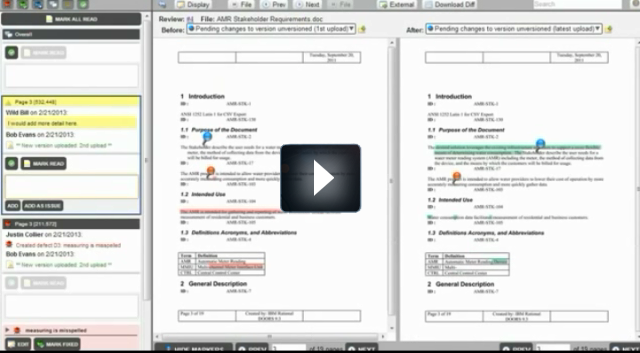 Preventing Defects with Collaborator
Change your mindset from finding defects to preventing them, and make huge improvements in quality.
How Does This Benefit QA?
Identifying defects before they turn up in code and production delivers huge benefits to you. You'll have fewer issues to deal with when you finally receive the release of code into QA, which takes a significant amount of the pressure off of the QA team. You'll start to move away from that classic project slipping scenario.
With peer reviews, the quality of builds released to QA are far higher, so you're not left on the back foot towards the end of the project.
Features
Collaborator is the only peer review tool that allows you to review MS Word, PDF, images and source code. It eliminates the frustration with reconciling email comments from multiple reviewers. It removes the complications of tracking defects and ensuring traceability. Install, configure and start finding defects hours in to the start of the project.
Reporting and Metrics : Create reports and statistics to demonstrate the benefits of peer reviews within your team. The results make it simple to justify further commitments to peer reviews within your projects.
Collaborate and Review Documents : Use real time chat or asynchronous chat features to produce contextual, threaded reviews within documents. Ease of use means that you no longer need time-consuming meetings to see real benefits from peer reviews.
Setup and Configure : Match and map your way of working to Collaborator. Or use out of the box work flows and processes to implement lightweight peer reviews that deliver immediate results. Either way, Collaborator helps you execute and deliver results.
Track Defects : When people in your team identify issues you can track them directly within Collaborator. Or you can integrate it with popular defect tracking tools to deliver defect tracking and reporting across the whole project life cycle.
Adhere to Regulatory Standards : If you are locked into regulatory requirements that impose standard peer review demands, then Collaborator can help. Collaborator delivers e-signature and auditing features to help you meet compliance diktats.
Start preventing defects early in the development life-cycle, free up test resources, and produce higher quality code. Then your QA team can concentrate on what matters rather than wrestling with releases that clearly aren't ready for test.
About Collaborator

Data Sheet
Understand the key features of Collaborator and how they will improve product quality across the whole product development life-cycle.
Read the Collaborator Data Sheet



Convince The Rest of the Team
Want help convincing the rest of your team that Collaborator is worth trying? Use these key facts and figures to convince them:
Collaborator Facts and Figures

COLLABORATOR 30 DAY TRIAL
Download a free 30 day trial of Collaborator and let us show you the difference this can make to the quality of your product releases. Install Collaborator and review just one document to start seeing the benefits.
Stop Finding Defects and Start Preventing Them
QA rarely has all the resources it needs to do the job properly. It's a fact of life we've learnt to live with. Yet there are smart solutions that'll help you make more of the resources you already have. Collaboration and peer reviews have the capability to transform the way you work.
With Collaborator, you have the capability to pull the test function earlier into the project life cycle. Finding more bugs earlier and saving huge amounts of time as your projects progress.
To find out more please contact us at sales@traqsoftware.co.uk